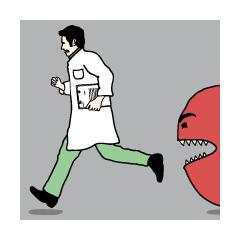 They say that an Apple a Day Keeps the Doctor Away.
I don't know about you, but around here we seem to be having an unseasonable epidemic of good health.
Over the last couple of weeks, the number of acute appointments that are required each day in our practice is about half our normal number. This makes our appointment golf scores look really bad.
Being an optimist, I thought that maybe our collaborative approach to proactive chronic disease management was finally demonstrating its benefits.
Being a realist, I also checked that we hadn't had a negative report in the Northern Star, or on http://ratemds.com.
But on a hospital round I noticed that the medical ward was half full (unheard of!) , and the palliative care ward had closed due to lack of numbers. On the orthopaedic ward, the staff were sitting around having a chat, there being very few fractures to tend to. Tumbleweeds were blowing down the paediatrics wing.
If you too are suddenly finding yourself with some thinking time, you might like to have a look at our resource of the day.
Hans Blom of the Vale Medical Clinic is a great collaborator and eCollaborator. I had a chance to tour his very busy surgery in Manly Vale a couple of years ago.
Hans has shared with us his excellent Guide to Useful Medical Internet Sites.
This great resource has hundreds of sites for clinicians and patients, divided into categories. Need the Australian Herpes Health Information Site (http://herpes.com.au)? How about the Australian Sports Drug Medical Advisory Committee. (http://asdmac.gov.au)?
Most importantly for a resource of this type, it is kept up to date.
You can download the most recent version from the Manly Warringah Division of General Practice web site.
Many of the sites that Hans has chosen provide healthy living advice for our patients (and our selves).
You may like to have a look at :
Recipes on how to Incorporate 2 servings of fruit and 5 of vegetables in your diet each day.
Information on healthy eating and being active
Good overview of methods to achieve healthy eating and exercise
Excellent resource for people with mental illness to improve their physical and oral health
Comprehensive A-Z nutritional guides and self assessment tools.
Thanks Hans for sharing this resource.
The earliest recorded use of the 'apple a day' phrase is an old Pembrokeshire proverb.
Eat an apple on going to bed, And you'll keep the doctor from earning his bread.
Too much of this healthy eating and daily exercise by our patients and we'll have nothing left to do.
Have you a favourite resource that Hans has missed?
Share generously through the comments below.