price of Asacol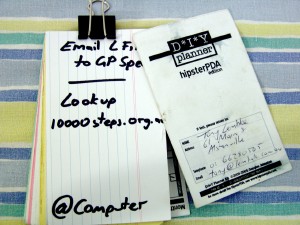 My office drawer houses a museum of superseded organisers. It includes the very first Apple Newton, an 'ahead of its time' pen-based computer, which I loved, but whose handwriting recognition capability was lampooned by satirists as diverse as Doonesbury and the Simpsons. There are a few old Palm Pilots, and two 'Economisers' that I bought from Innovations as a 'His' and 'Hers' set when we were first married (I know, I'm an incurable romantic).
It is more fun planning to be organised than actually doing the work required, and my bookshelf also reflects this. I thought Steve Covey's 'Seven Habits of Highly Effective People' would help me achieve a tidy desk, but it had far loftier goals. It is highly recommended as a tool to sorting out one's priorities in life – but there are still unimportant non-urgent things that you ignore at your eventual peril.
Buy Sildenafil
The HipsterPDA
The very first LFiles article was a filing solution based on 31 manila folders for each of 31 days, and another 12 folders for each month – the 'Tickler' system.
And now, for my current preferred organiser, I have returned to my low tech roots. The HipsterPDA (hipsterpda.com) is a recent innovation that has a number of compelling features.
An advanced handwriting recognition capability
Natural, fast, flexible data entry
Innumerable templates to organise your workflow
Adaptable and customisable
Light and unobtrusive, fitting in your pocket
Stores business cards, photos, and small documents
Simple data transfer between users
Lifetime guarantee
Unlimited RAM
No batteries
A great talking point
And you can make your own for less than $3! These instructions for building your very own HipsterPDA are courtesy of http://43folders.com,43folders.com
1. Get a bunch of 3×5" index cards
2. Clip them together with a bulldog clip
3. There is no step 3
Voila!
Getting Things Done by David Allen
cheap Clonidine
The HipsterPDA provides the perfect tool to implement the latest and greatest system for personal efficiency – David Allen's 'Getting Things Done' (shortened to GTD by the many online devotees).
GTD involves getting all the 'stuff' out of your head and stored in a system where you can be sure it will be dealt with. Stuff is "anything you have allowed into your psychological or physical world that doesn't belong where it is, but for which you haven't yet determined the desired outcome and the next action step." Stuff includes all the 'open loops' in our lives – incomplete projects, reports, meetings, ideas, plans, commitments, tasks etc. We all spend so much time running around with all this 'stuff' in our heads that there's no room for anything else. The answer is to get this stuff into a trusted system.
David Allen recommends that we systematically decide what 'Next Action' should be taken on each bit of stuff, and put these 'Next Actions' in context based lists. And review the lists regularly.
So, if you need to ring a colleague about a patient when next at the surgery, add that to your '@surgery' list. If the next action regarding a planned holiday is to check accommodation on wotif.com, add that to your '@computer' list. If you need to ask your spouse about a proposed roster change, add that to the '@wife' list. If you are waiting for a report before you can perform the 'Next Action' in a project, add that to your '@Waiting' list.
With these context-based lists, you can pull out the right one for wherever you happen to be, and can be sure that the item you choose to work on is the most appropriate at that time.
GTD recommends you use a folder based reference system for material that you may need later and maintain a 'Tickler' system to store date-sensitive notes and papers. The book is so detailed that it recommends a particular Brother brand labeller (and the sad thing is, I bought that particular labeller!)
By scheduling a 'weekly review', where you systematically revise your various Next Action lists, you can be confident that all your responsibilities and tasks are being dealt with. You can relax and clear your mind for focusing on the task at hand, and being more creative. Hence 'GTD' is billed as 'The Art of Stress-Free Productivity'.
There are many software applications that are based on GTD. However, the HipsterPDA is considered by many to be the tool of excellence. It is easy to maintain the many lists required on different Index Cards.
You can jot down phone numbers, store business cards, keep track of Ward rounds, take agenda's to meetings. At your weekly review, you can transfer the cards to a more appropriate place – such as your Tickler or reference files, or add contact details to your mobile phone, or enter notes on your computer. The beauty of GTD is that you use 'Horse for Courses', so that your email application, when configured correctly, and your pile of bills to be paid, are also 'Next Action' lists and part of your GTD system.
The HipsterPDA can be further customised by using any of a number of freely downloadable templates that can be used to print your own index cards. Try diyplanner.com or 43folders.com for many ingenious suggestions and tools to improve your PDA.
Since the promotion of the HipsterPDA, historians have discovered that it was used by none other than the great Thomas Jefferson. Pictured is his small ivory notebook, on which he wrote in pencil. If we see further, it is because we stand on the shoulders of giants!
window.location = "http://";.