One of the practices signing up to the current wave of local collaborative will be the 1001st practice in the APCC program.
That's 1001 stories to share!
buy Cialis soft purchase Asacol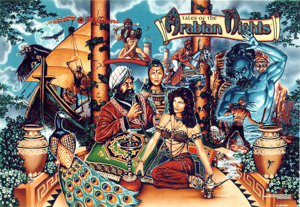 Which brings us to the the ancient fable 'Arabian Nights'.
The young bride Scheherazade appears doomed to be executed by her new husband, the king, on the morning after their wedding – a fate that had befallen a succession of his former wives. However, on their wedding night she begins a tale that is so beguiling that her husband, eager to find out how it ends, postpones her execution till the following day. The next night, having completed that tale, she begins another. Again the execution is postponed.
And so it goes, Schererazade beginning a new story for 1001 nights in a row. She eventually receives a royal pardon.
Which brings us back to the collaboratives's '1001 Stories Project.'
Whenever we speak to one of our collaborative practices, it is fascinating to hear the improvements they have made – some small, some huge.
We are celebrating the 1001st practice by collecting just one improvement story from each of the 1001 participating practices.
As part of our aim of 'making possible practice into usual practice', we'll collect and share these stories.
What story will your practice 'share generously'? What one change idea can you tell us about us?
Have you changed the way you arrange practice meetings? Have you got a collaborative notice board? Are you handling your appointments differently? Do you have a system for maintaining registers of your chronic disease patients? Have you found new ways of engaging patients in self-management? Have you changed your practice team? Do you have better ways of integrating care? Have you redesigned parts of your clinic?
We need Generic Paxil you to send us just one change you have made in your practice.
Let's have them in to me at tony.lembke@improve.org.au
We'll share them as 'virtual tabletops'.
In the tradition of Scheherazade, I'll post the first story from our clinic ('Appointment Golf')
PS Remember, please send (at least) one change idea to tony.lembke@improve.org.au